History
The Sustainability Alliance of Southwest Colorado (SASCO) is based in Durango, Colorado and has roots stemming back to the 2002 La Plata County Community Summit. Through discussions at the 2003 Sustainable Economic Development Study Circle, and a breakout group at the 2004 Community Summit, the core group of SASCO members came together to address the idea of a "sustainability policy council." Our founding Board of Directors was nominated in December 2005, and they formally adopted bylaws in February 2006.
By supporting projects with volunteer time for the first one-two years of their existence, we have helped incubate many local organizations and efforts like Four Core, Local First, Farm to School, the La Plata Electric Association (LPEA) Board of Directors Election Campaigns, Green Expo, as well as hosting many educations events, films, and documentaries. 
SASCO is now a project of the San Juan Citizens Alliance and we primarily track sustainability efforts with the Durango City Council, La Plata County, The Durango Tourism office, and Durango School District. We also act as a sustainability HUB to connect and network organizations within the community through our local sustainability events calendar, the SASCO website, and monthly Green Drinks. 
We'd love to take on more projects and discussions with non-profits in the community or establish another Green umbrella event, or community summit. We also hope to add more social equity organizations to our partner list. Interested in being involved? Reach out!
Check out our recent monthly updates here: 
---
La Plata Electric Association (LPEA) Board of Directors Election Campaigns
SASCO's worked to increase local control and responsible energy production by supporting progressive candidates running for membership to the publicly-elected La Plata Electric Association (LPEA) Board of Directors.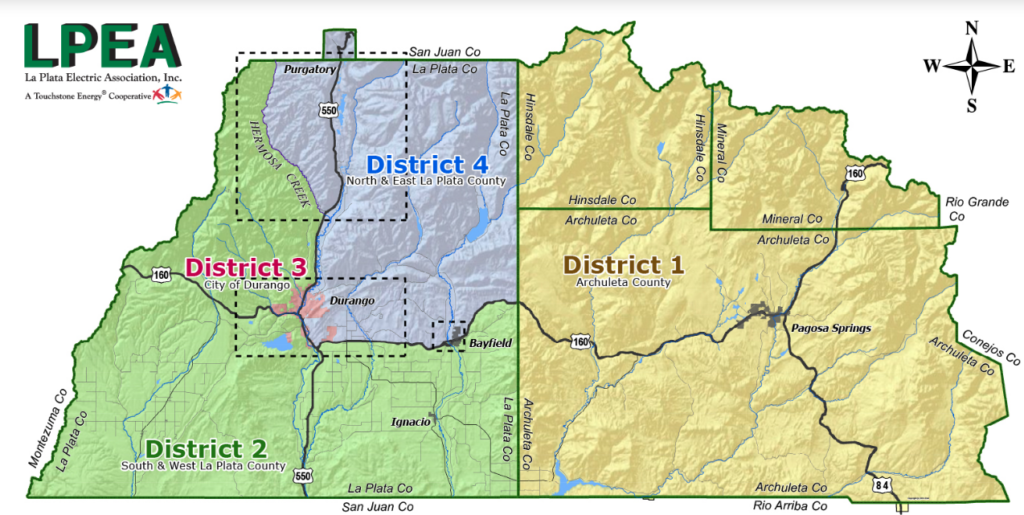 La Plata Electric Association (LPEA) Board members inform policy, rates, and practices within our regional electric cooperative, thereby playing a pivotal role in our energy future. We need to elect LPEA Board members that serve the best interests of you, the co-op members. This means:
Keeping your electricity bill low
Building the local economy with resources and energy generated locally instead of a Tri-State coal plant
Supporting clean air, water, and a safer climate
If you are interested in clean energy, increasing community resiliency, and increasing local control over, and responsible sources of, energy production benefiting our local economy, please get in touch with us on how you can help!
Want to learn more? San Juan Citizens Alliance, provides lots of information on their their website.
Did you know that less than 25% of our community turns out to vote in LPEA elections every year (elections are usually in the spring)? Let's change that. We must elect an active, forward thinking LPEA Board of Directors in order for LPEA to unveil and pursue the best path to a less expensive, clean, and reliable energy future.
---
Durango Green Drinks
Durango Green Drinks offers a place for anyone in the area to come,  mingle, meet others and chat about local sustainability issues. This informal monthly get-together gives people the chance to learn about community sustainability issues, meet like-minded locals and simply have fun. Please join us on the last Thursday of each month at 11st Street Station from 5-7PM MT! Please feel free to wear a mask and social distance..
Who can attend? Anyone! Business owners, sustainability professionals, community leaders, employers, job-seekers, singles, couples—anyone interested in a healthy planet and who wants to chat, mingle, and catch up with old and new friends! Bring a friend and come with conversation!
Questions? Please contact: durangogreendrinks@gmail.com
2022 Hosts and Calendar (March to November)
January and February: NO GREEN DRINKS
March 31: Four Corners Office for Resource Efficiency (4CORE), City of Durango
April 28: Turtle Lake Refuge, Sustainability Alliance of SW Colorado (SASCO)
May 26: Durango Farmers Market, Manna Soup Kitchen
June 30: San Juan Mountains Association, Mountain Studies Institute
July 28: Citizens' Climate Lobby, Great Old Broads for Wilderness, Conservation Colorado
August 25: Environmental Center At Fort Lewis College, Local First
September 29: Good Food Collective, The Wilderness Society
October 27: La Plata Open Space Conservancy, San Juan Citizens Alliance, Grand Canyon Trust
November 17: (a week early due to Thanksgiving): American Rivers, Visit Durango
December: NO GREEN DRINKS
Did You Miss Green Drinks?
Check out recordings here!